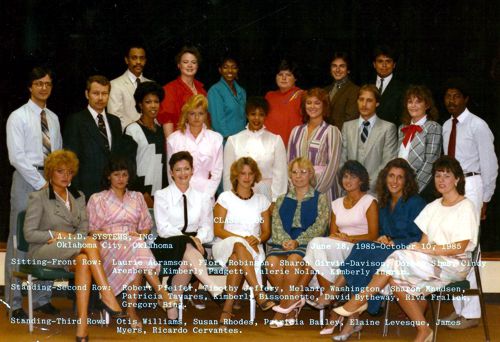 Pre-Development Class 8505
Course ?
Jun 18, 1985 to Oct 10, 1985
Class Names (left to right)

Front row:
Laurie Abramson, Flora Robinson, Sharon Girvin-Davison, Doreen Sims, Cindy Arenberg, Kimberly Padgett, Valerie Nolan, Kimberly Ingram.
Second row:
Robert Pheifer, Timothy Jeffery, Melanie Washington, Sharon Knudsen, Patricia Tavaras, Kimberley Bissonnette, David Bytheway, Riva Fralick, Gregory Bing.
Third row:
Otis Williams, Susan Rhodes, Patricia Bailey, Elaine Levesque, James Myers, Ricardo Cervantes.