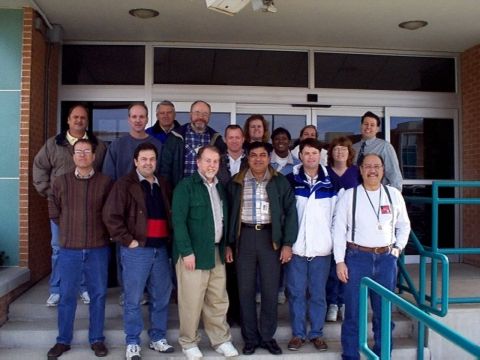 Flight Watch Class 99002
Course 50201
Class dates: 1/13/99 thru 2/8/99
Class Names (left to right)

Front row:
Martin Pollreisz (2nd from left), Julius K Wery (far right)
Second row:
Varic Ellefson (4th from left, Bobby Prentice (NWS Instructor far right).
Unknown order of names:
Iftikhar Ahmad, Debra Anderson, Denise Ashley, Scott Brandes, James Cleary, Dana Colquitt, James Cumbe, Charles Dunning, James Jolley, Marilyn Martyn, Michael Tepp, Daniel Williams.
More EFAS class 99002 photos
Class photos Home Page
Flight Service Specialists in training for Flight Watch, otherwise known as Enroute Flight Advisory Service, a service provided to pilots at selected AFSS facilities.