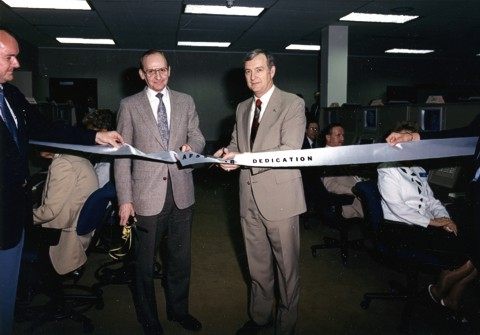 FAA Flight Service Academy Lab, Oklahoma City, Oklahoma, 1989.
Instructor, George Johnson, "Nobby" Owens (AAT-2), and Dr. McClure (AAC-1),
mark the ceremonial opening of the FAA Academy's new Flight Service training lab.
The new facility simulates the latest in flight service automation.
In a recent ceremony opening the new FAA Academy, Air Traffic Branch Automated
Flight Service Station Laboratory, Aeronautical Center Director, "Mac" McClure, and
Norbert A. "Nobby" Owens, Deputy Associate Administrator for Air Traffic (AAT-2),
joined Flight Service instructors, course developers, and other Air Traffic Branch
people in cutting a ribbon opening the new facility in the Flight Inspection Building,
here.
Students now have an environment that dupli­cates specialist operational positions at
automated facilities around the country. In the lab, trainees use a
combination of alphanumeric data and weather graphics. Class room and
laboratory training includes weather analysis, flight plan processing, search
and rescue techniques, and in­terpreting satellite and radar data. Flight
Service specialists provide pilot weather briefing and other flight information, take
flight plans, handle distress calls from lost aircraft and coordinate search and rescue
efforts at some 185 Flight Service Stations around the country.
So far, FAA has activated 45 automated Flight" Service Stations, with another 16 to be
operation­al by 1992. Meanwhile, the demand for FAA Flight Service station
specialists training has grown. Student numbers for the 79-day course will
double starting in April.
Above article taken from the Mike Monroney Aeronautical Center Intercom, March 28,
1989
Return to Class Photos home page.