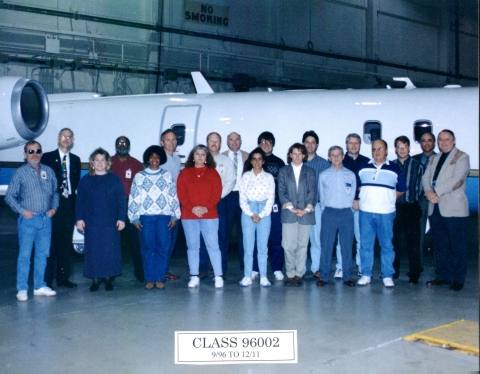 Class 96002
Course 50241
Class dates: 09/96 thru 12/11/96
Class Names
Front Row: Dave Autery (MLC), Kate Schlacter (NWS), Joyce Ashley (RAL), Terry Johnson (JBR), Lisa Castaneda (IKK), Terry Dale (RDU), Bob Marshall (Instructor), Bob Huggins (HON), George Johnson (Asst. Class Manager).
Back Row: John Schamel (Class Manager), Clarence Johnson (MCN), Larry Idema (RAL), Jim Hantz (ENA), Jon Osterberg (NWS), Al Harzewski (BGR), Joel Jackson (MLC), Todd Glaese (GNV), Doug Streu (NWS), Mel Bourgeois (Instructor).
These are the students learning how to become Flight Service Specialists.