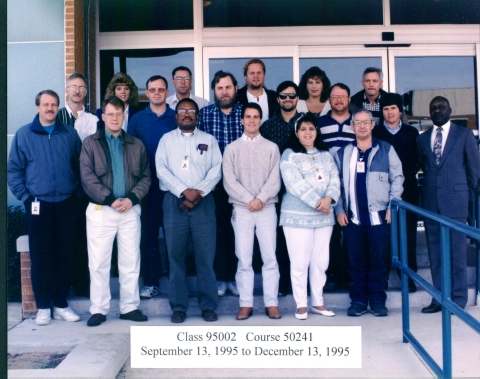 Class 95002
Course 50241
Class dates: 09/13/95 thru 12/13/95
Class Names:
Front Row: Kevin McAllister (DEN), Doug Streu (NWS), Wille Hester (RDU), Eric Labreque (BTV), Carol Raiford (MIA), Sid Sheets (CXO).
Second Row: Joh Schamel (Asst. Class Manager), Jack Hurd (DEN), John Laski (BUF), David Saldivar (ENA), Bruce Ayer (BGR), Kathy Glynn (DCA), Ron Covington (Class Manager).
Third Row: Diane Wright (PIE), Bud Anderson (AOO), Greg Cox (PIE), Judy Rash (PIE), Rickie Farmer (AND).
These are the students learning how to become Flight Service Specialists.