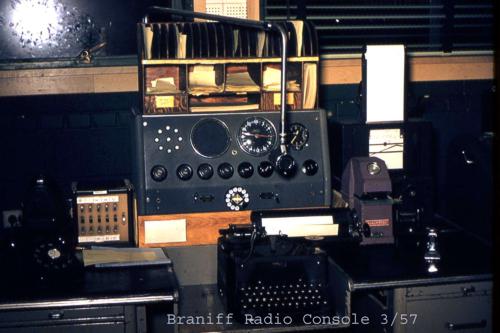 Historical data and photo submitted by Robert Roll, former Braniff Airline Midway employee.
Midway Airport (MDW), Illinois, March 1957.
Braniff Airlines Air/ground Company communications at Midway Airport. They had three High Frequency (HF) radio frequencies and one VHF frequency. The tele-autograph supplied current weather information from the NWS to keep approaching flights informed.

There was also a weather teletype machine to receive hourly weather and winds. The station included a 19ASR machine with tape punch to send position reports and other information to the company. During those days the communicated with the Air route Traffic Control Center and relayed clearances to Braniff flights until they got to the Approach Control Zone.
Return to Facility Photos home page.