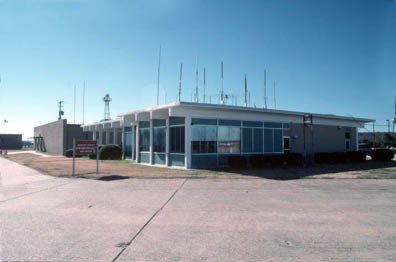 Greenwood FSS (GWO), Mississippi.
In 1967, the Greenwood Municipal Airport was slated to close. The city
and county moved to relocate the airport to the abandoned Greenwood
Army Air Field. For a period, both the Greenwood-Leflore Airport and
Greenwood Municipal were in operation. The FAA began construction on a
new FSS at Greenwood (GWO) in 1968. The facility was commissioned in
1969. The AFSS was constructed in the mid 1980s and is located adjacent
to the original FSS, which is now used by Airways Facility Service Support
Center.
Return to Facility Photos home page.