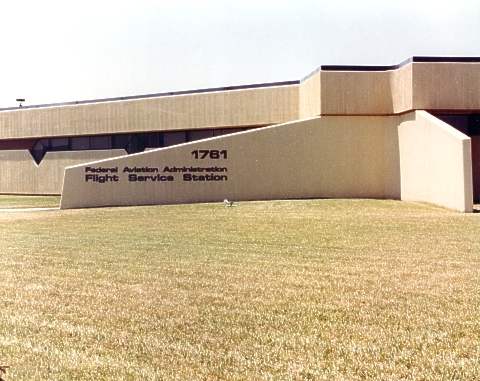 Wichita AFSS (ICT), Kansas. 1985.
The following history was taken from the ICT web site.

Although it has moved several times, Wichita Automated Flight
Service has been in continuous operation since it was commissioned
September 1, 1928. The original facility was located on East Central
Street in Wichita, KS near what is now the Beech Aircraft Factory.
The facility was moved in 1931 to the Administration building at
the old municipal airport (now McConell AFB). In September of 1954,
the facility was moved to the new municipal airport (Mid Continent)
and located on the second floor of the terminal building. The next move,
October of 1966, the facility was again moved to the Weather Bureau
building on Mid Continent Airport. Finally, the building was moved
to it's present location on November 12, 1981. The building was
recently remodeled and expanded in 1993.

Recent national AFSS consolidation efforts have changed the face
of flight service significantly. During this consolidation, Wichita
AFSS incorporated eight flight service stations across Kansas
including Emporia FSS, Chanute FSS, Russell FSS, Hill City FSS,
Dodge City FSS, Goodland FSS, Manhattan FSS, and Garden City FSS.

Wichita AFSS presently employs 49 people.
Annual traffic count is approximately 500,000 flight services.

Return to Facility Photos home page.